Volutidae – Amoriinae: Amoria undulata (Lamarck, 1804) ('wavy volute')
Synonym(s): undulata Lamarck, 1804 angasi Sowerby, 1864 sclateri Cox, 1869 kingi Cox, 1871 australiae Cox, 1872 moslemica Hedley, 1912 benthalis McMichael, 1964.
Typical shell-length 100 mm. Beached shells are often stained black or orange. Lives subtidally on sand and mud, emerging at night to feed. Native. Endemic to southern and eastern Australia (QLD, NSW, TAS, VIC and SA). In Tasmanian waters, this is a widespread and common species; often beached.
Classification
Class: Gastropoda
Subclass: Caenogastropoda – Sorbeoconcha
Order: Hypsogastropoda – Neogastropoda
Superfamily: Muricoidea
Family: Volutidae
Subfamily: Amoriinae
Genus: Amoria
A-L Localities for Amoria undulata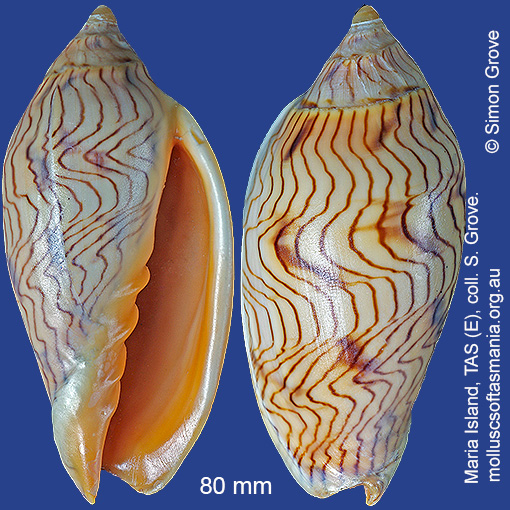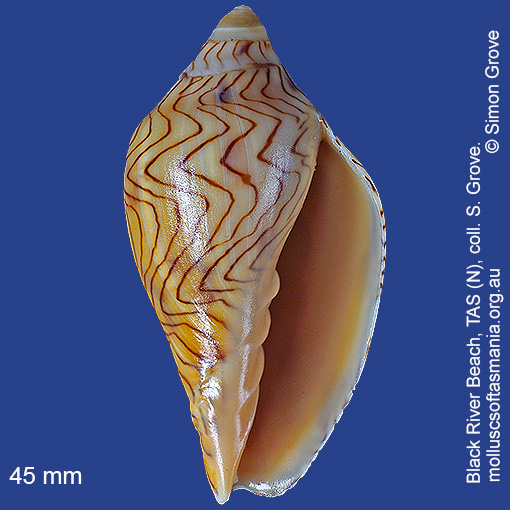 M-Z Localities for Amoria undulata