Costellariidae: Austromitra analogica (Reeve, 1845) ('analog ribbed-mitre')
Synonym(s): analogica Reeve, 1845 jaffaensis Cotton & Godfrey, 1932.
Typical shell-length 15 mm. Shell very variable in colour and sculpture: may be entirely pale or dark, or banded, and may be smooth or heavily ribbed. Some forms resemble a Mitrella, but bear columellar folds. Lives subtidally amongst rocks and seaweed. Native. Endemic to southeastern and southwestern Australia (QLD, NSW, TAS, VIC, SA and WA). In Tasmanian waters, this is a widespread species, but uncommon as a beached shell except in the N.
Classification
Class: Gastropoda
Subclass: Caenogastropoda – Sorbeoconcha
Order: Hypsogastropoda – Neogastropoda
Superfamily: Muricoidea
Family: Costellariidae
Genus: Austromitra
A-L Localities for Austromitra analogica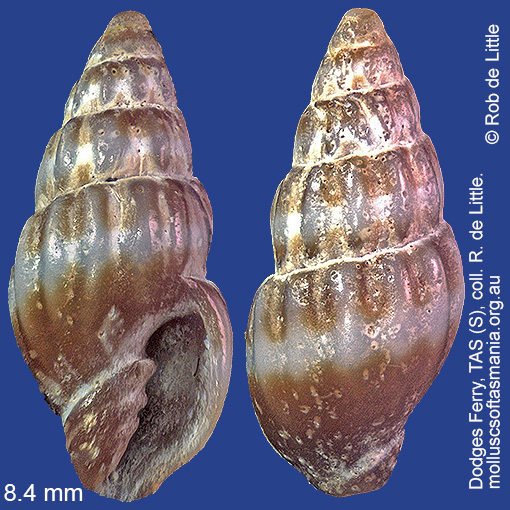 M-Z Localities for Austromitra analogica