Mytilidae: Brachidontes erosus (Lamarck, 1819) ('eroded beaked-mussel')
Synonym(s): erosus Lamarck, 1819 polyodontus Quoy & Gaimard, 1834 menkeanus Philippi, 1847.
Typical shell-length 50 mm. Shell dark purplish-brown and coarsely radially ribbed, but surface often eroded to pale purplish-brown, especially towards centre. Lives intertidally and subtidally amongst rocks and seaweed, singly or in aggregations, especially on sheltered shores. Native. Endemic to southeastern and southwestern Australia (TAS, VIC, SA and WA). In Tasmanian waters, this is a widespread and locally common species, especially in the N.
Classification
Class: Bivalvia
Subclass: Pteriomorphia
Order: Mytiloida
Superfamily: Mytiloidea
Family: Mytilidae
Genus: Brachidontes
A-L Localities for Brachidontes erosus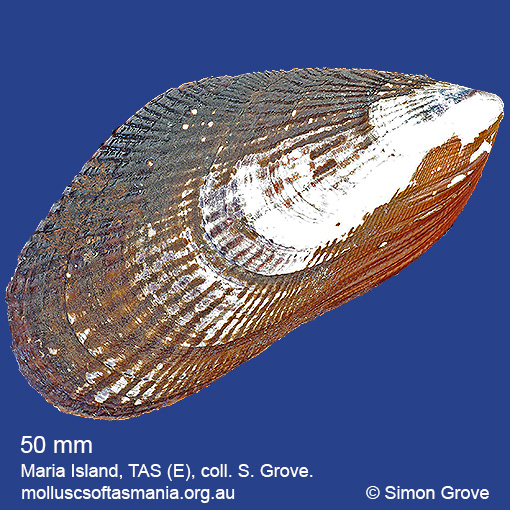 M-Z Localities for Brachidontes erosus