Cerithiidae – Bittiinae: Cacozeliana granarium (Kiener, 1842) ('grainy creeper')
Synonym(s): granarium Kiener, 1842 lacertinum Gould, 1861.
Typical shell-length 20 mm. Shell bleaches to white when worn. Lives subtidally on mud and among rocks and seaweed, including in quite exposed conditions. Native. Endemic to southeastern and southwestern Australia (NSW, TAS, VIC, SA and WA). In Tasmanian waters, this is a widespread and common species.
Classification
Class: Gastropoda
Subclass: Caenogastropoda – Sorbeoconcha
Order: Cerithiimorpha – Cerithiimorpha
Superfamily: Cerithioidea
Family: Cerithiidae
Subfamily: Bittiinae
Genus: Cacozeliana
A-L Localities for Cacozeliana granarium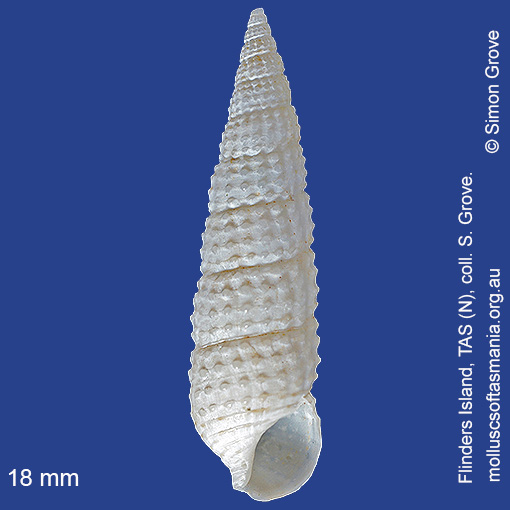 M-Z Localities for Cacozeliana granarium