Dialidae: Diala suturalis (A. Adams, 1853) ('sutured diala')
Synonym(s): suturalis A. Adams, 1853 lauta A. Adams, 1862 punctata Tenison-Woods, 1876 magna Tate, 1891 cento Laseron, 1956.
Typical shell-length 9.0 mm. Shell may be banded or intermittently striped. Lives intertidally and subtidally amongst seaweed and seagrass, especially in sheltered environments. Native. Endemic to southeastern and southwestern Australia (TAS, VIC, SA and WA). In Tasmanian waters, this is a widespread and common species.
Classification
Class: Gastropoda
Subclass: Caenogastropoda – Sorbeoconcha
Order: Cerithiimorpha – Cerithiimorpha
Superfamily: Cerithioidea
Family: Dialidae
Genus: Diala
A-L Localities for Diala suturalis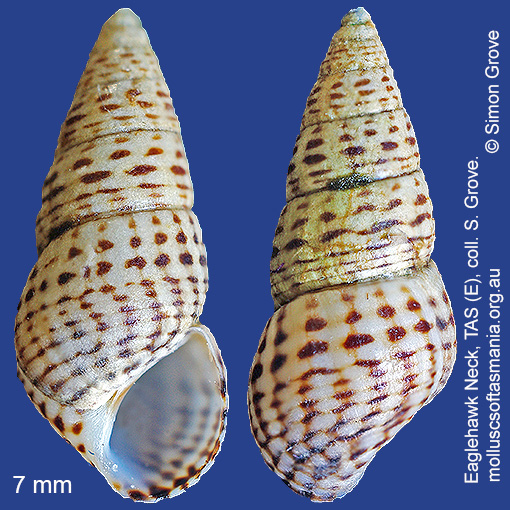 M-Z Localities for Diala suturalis