Veneridae – Tapetinae: Eumarcia fumigata (G. B. Sowerby II, 1853) ('smoky venus')
Synonym(s): fumigata Sowerby, 1853 laevigata Sowerby, 1853 faba Reeve, 1864.
Typical shell-length 35 mm. Shell smooth and shiny. Colour intensity varies, from off-white to beige. Lives intertidally and subtidally in sand and mud, on sheltered shores. Native. Endemic to southeastern and southwestern Australia (QLD, NSW, TAS, VIC, SA and WA). In Tasmanian waters, this is a widespread and locally abundant species.
Classification
Class: Bivalvia
Subclass: Heterodonta
Order: Veneroida
Superfamily: Veneroidea
Family: Veneridae
Subfamily: Tapetinae
Genus: Eumarcia
A-L Localities for Eumarcia fumigata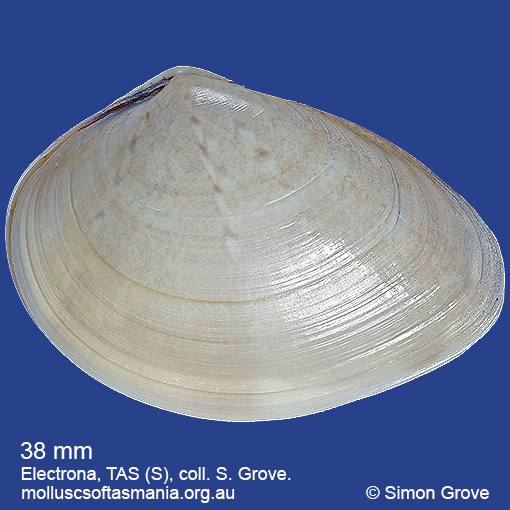 M-Z Localities for Eumarcia fumigata