Cardiidae – Laevicardiinae: Fulvia tenuicostata (Lamarck, 1819) ('thin-ribbed cockle')
Synonym(s): fagea Lamarck, 1819; racketti Lamarck, 1819; tenuicostata Lamarck, 1819; radiatum Reeve, 1845; tegulatum Dautzenberg, 1900.
Typical shell-length 55mm. Lives subtidally in sand and mud, especially in moderately sheltered environments. Native. Endemic to southeastern and southwestern Australia (NSW, TAS, VIC, SA and WA). In Tasmanian waters, this is a widespread and common species.
Classification
Class: Bivalvia
Subclass: Heterodonta
Order: Veneroida
Superfamily: Cardioidea
Family: Cardiidae
Subfamily: Cardiinae
Genus: Fulvia
A-L Localities for Fulvia tenuicostata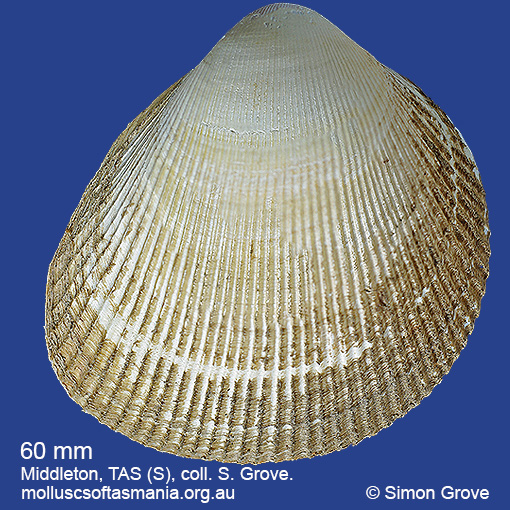 M-Z Localities for Fulvia tenuicostata