Turritellidae – Turritellinae: Gazameda gunnii (Reeve, 1849) ('Gunn's screw-shell')
Synonym(s): gunnii Reeve, 1848 philippensis Watson, 1881.
Typical shell-length 60 mm. Lives subtidally and offshore on sand. Native. Endemic to eastern Australia (QLD, NSW, TAS and VIC). In Tasmanian waters, this is a widespread species, but only locally common as a beached shell.
Classification
Class: Gastropoda
Subclass: Caenogastropoda – Sorbeoconcha
Order: Cerithiimorpha – Cerithiimorpha
Superfamily: Cerithioidea
Family: Turritellidae
Subfamily: Turritellinae
Genus: Gazameda
A-L Localities for Gazameda gunnii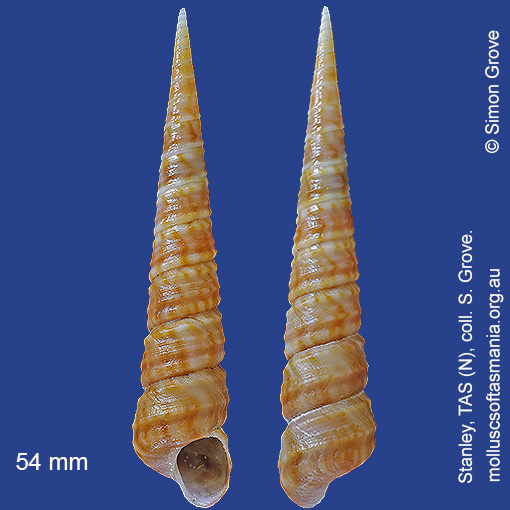 M-Z Localities for Gazameda gunnii