Mitridae – Isarinae: Isara badia Reeve, 1844 ('dark brown mitre')
Synonym(s): badia Reeve, 1844 nigra Reeve, 1844 rhodia Reeve, 1845 castanea A. Adams, 1853 digna A. Adams, 1855 rosettae Angas, 1865 maoria Finlay, 1927 perksi Verco, Cotton & Godfrey, 1932 contermina Iredale, 1936 sinusigera Laseron, 1951.
Typical shell-length 40 mm. Shell is uniformly dark, though beached specimens are often worn paler. Lives subtidally amongst rocks and seaweed. Native. Endemic to southeastern and southwestern Australia (QLD, NSW, TAS, VIC, SA and WA). In Tasmanian waters, this is a widespread species; most common in the N.
Classification
Class: Gastropoda
Subclass: Caenogastropoda – Sorbeoconcha
Order: Hypsogastropoda – Neogastropoda
Superfamily: Muricoidea
Family: Mitridae
Subfamily: Isarinae
Genus: Isara
A-L Localities for Mitra badia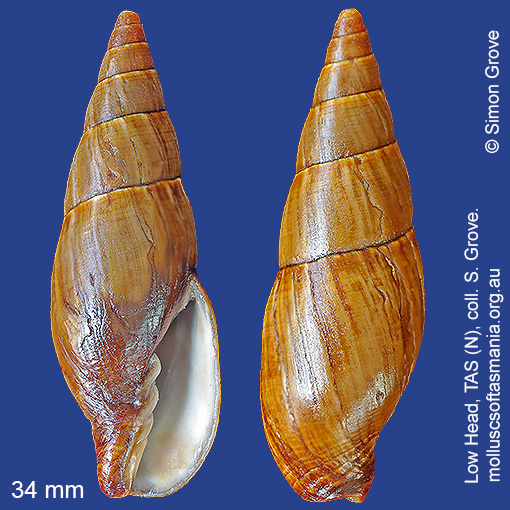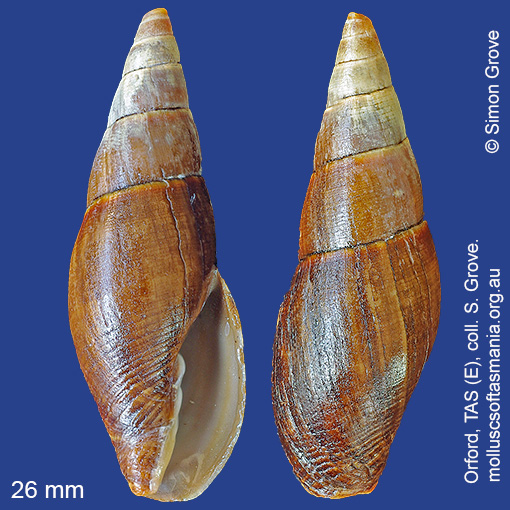 M-Z Localities for Mitra badia