Mitridae – Isarinae: Isara glabra Swainson, 1821 ('smooth mitre')
Synonym(s): glabra Swainson, 1821 buccinata Quoy & Gaimard, 1833 bulimioides Reeve, 1844 exposita Iredale, 1936.
Typical shell-length 90 mm. When alive, the shell is covered in a flaky, black periostracum. Shell often bears concentric dark lines, but these are often worn off in beached specimens. Lives subtidally amongst rocks and seaweed. Native. Endemic to southeastern and southwestern Australia (NSW, TAS, VIC, SA and WA). In Tasmanian waters, this is a widespread species; most common in the N.
Classification
Class: Gastropoda
Subclass: Caenogastropoda – Sorbeoconcha
Order: Hypsogastropoda – Neogastropoda
Superfamily: Muricoidea
Family: Mitridae
Subfamily: Isarinae
Genus: Isara
A-L Localities for Mitra glabra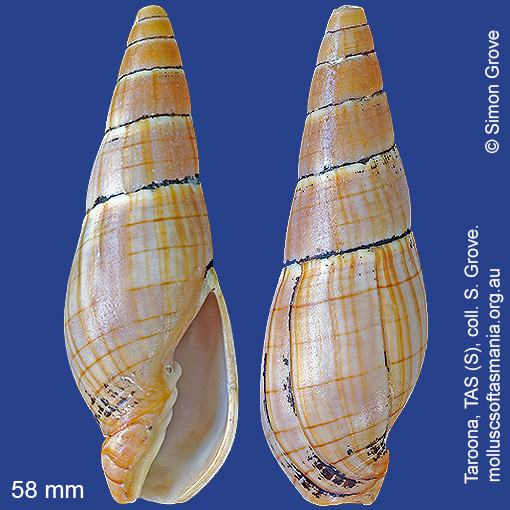 M-Z Localities for Mitra glabra