Ischnochitonidae – Ischnochitoninae: Ischnochiton (Ischnoradsia) australis (G.B. Sowerby II, 1833) ('southern chiton')
Synonym(s): australis Blainville, 1825 novaehollandiae Reeve, 1847.
Typical shell-length 90 mm. Lives intertidally and subtidally under rocks and stones, especially those not embedded in sand on moderately sheltered shores. Native. Endemic to southern and eastern Australia (QLD, NSW, TAS, VIC and SA). In Tasmanian waters, this is a widespread and common species.
Classification
Class: Polyplacophora
Subclass: Chelodina
Order: Neoloricata
Superfamily: Ischnochitonina
Family: Ischnochitonidae
Subfamily: Ischnochitoninae
Genus: Ischnochiton
A-L Localities for Ischnochiton australis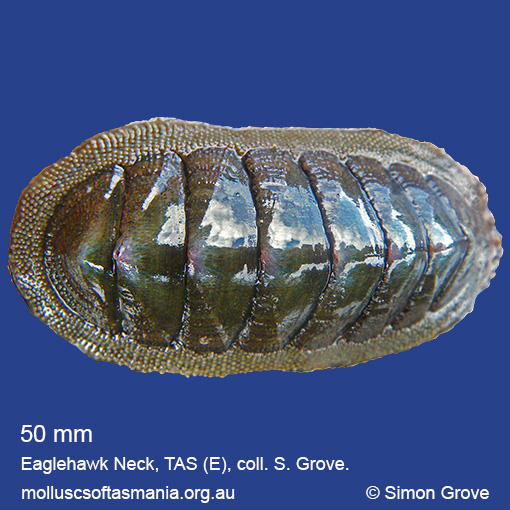 M-Z Localities for Ischnochiton australis