Turritellidae – Turritellinae: Maoricolpus roseus (Quoy & Gaimard, 1834) ('New Zealand screw-shell')
Synonym(s): roseus Quoy & Gaimard, 1834.
Typical shell-length 80 mm. Lives subtidally and offshore on sand and mud, especially in sheltered environments. Non-native. Occurs in eastern Australia (QLD, NSW, TAS and VIC); also New Zealand. In Tasmanian waters, this species is now widespread and often abundant, following unintentional introduction from New Zealand.
Classification
Class: Gastropoda
Subclass: Caenogastropoda – Sorbeoconcha
Order: Cerithiimorpha – Cerithiimorpha
Superfamily: Cerithioidea
Family: Turritellidae
Subfamily: Turritellinae
Genus: Maoricolpus
A-L Localities for Maoricolpus roseus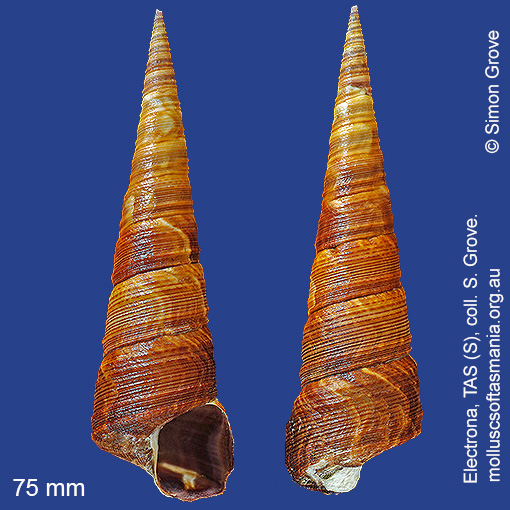 M-Z Localities for Maoricolpus roseus