Mytilidae: Mytilus galloprovincialis Lamarck, 1819 ('Mediterranean blue mussel')
Synonym(s): galloprovincialis Lamarck, 1819.
Typical shell-length 100 mm. Shell is typically blue-black, but can be pale brown, especially when young. Lives intertidally amongst rocks and seaweed, usually in aggregations, especially on moderately exposed shores. Non-native. Occurs in southeastern and southwestern Australia (NSW, TAS, VIC, SA and WA); other subspecies are found elsewhere in the temperate zones of both hemispheres. In Tasmanian waters, this species has become widespead especially in sheltered waters; commercially harvested for food. It has widely interbred with the native blue mussel.
Classification
Class: Bivalvia
Subclass: Pteriomorphia
Order: Mytiloida
Superfamily: Mytiloidea
Family: Mytilidae
Genus: Mytilus
A-L Localities for Mytilus galloprovincialis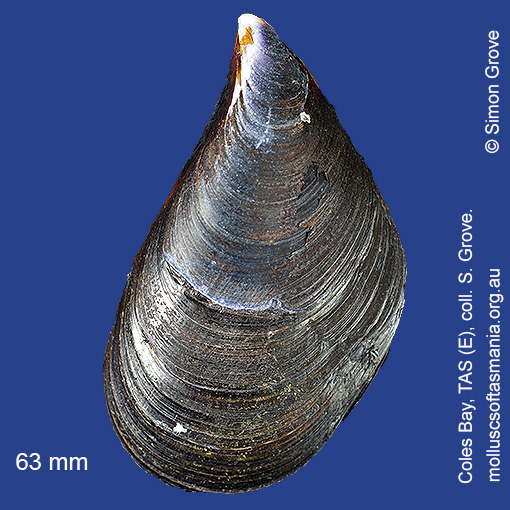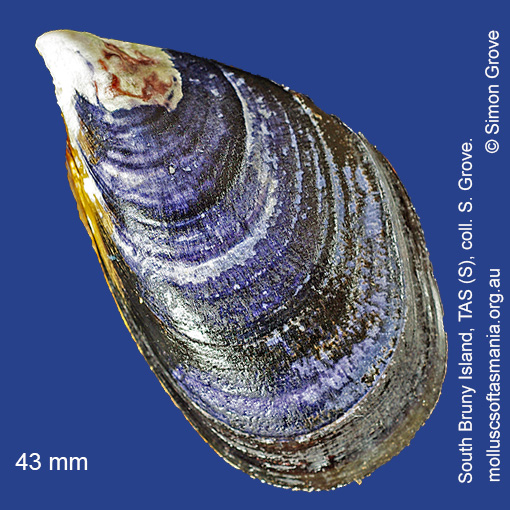 M-Z Localities for Mytilus galloprovincialis