Trochidae – Cantharidinae: Phasianotrochus irisodontes (Quoy & Gaimard, 1834) ('rainbow kelp-shell')
Synonym(s): irisodontes Quoy & Gaimard, 1834 virgata Menke, 1843 iriodon Philippi, 1845 laetus Philippi, 1850 schrayeri Philippi, 1850 virgulatus Philippi, 1850 minor Philippi, 1851 vulgaris A. Adams, 1853 nitidulus Philippi, 1855.
Typical shell-length 18 mm. Worn specimens are difficult to distinguish from P. irisodontes, though this species (if indeed distinct from P. irisodontes, grows significantly larger. Lives subtidally amongst seaweed, especially brown macroalgae. Native. Endemic to southeastern Australia (TAS, VIC and SA). In Tasmanian waters, this is a widespread species, although confirmed records are relatively few.
Classification
Class: Gastropoda
Subclass: Vetigastropoda
Order: Vetigastropoda
Superfamily: Trochoidea
Family: Trochidae
Subfamily: Cantharidinae
Genus: Phasianotrochus
A-L Localities for Phasianotrochus irisodontes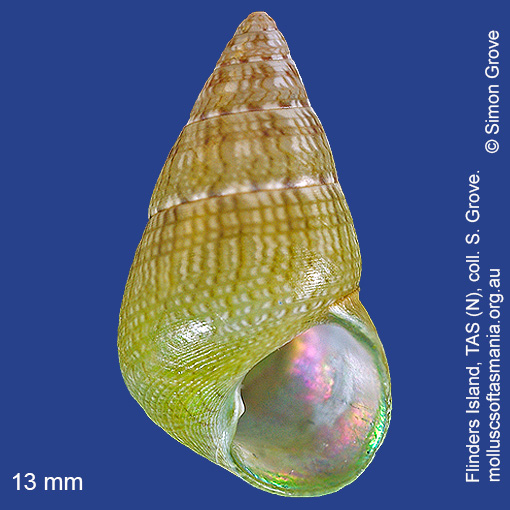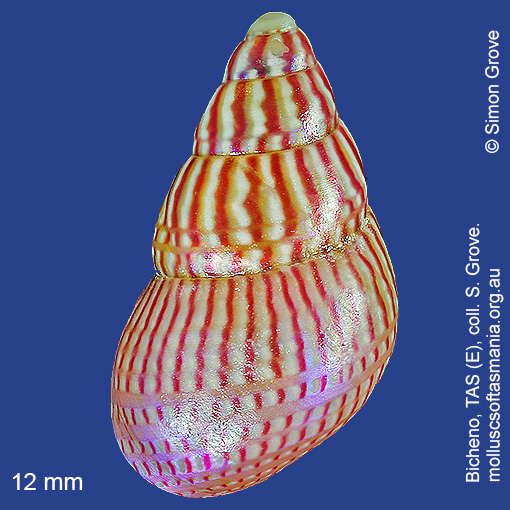 M-Z Localities for Phasianotrochus irisodontes