Veneridae – Venerinae: Placamen placidum (Philippi, 1844) ('placid venus')
Synonym(s): placidum Philippi, 1844 roborata Hanley, 1844 decipiens Hanley, 1845.
Typical shell-length 30 mm. The extent of brown markings varies: many shells are entirely white. Lives subtidally in sand, in moderately exposed environments. Native. Endemic to southern and eastern Australia (QLD, NSW, TAS, VIC and SA). In Tasmanian waters, this is a widespread and common species.
Classification
Class: Bivalvia
Subclass: Heterodonta
Order: Veneroida
Superfamily: Veneroidea
Family: Veneridae
Subfamily: Venerinae
Genus: Placamen
A-L Localities for Placamen placidum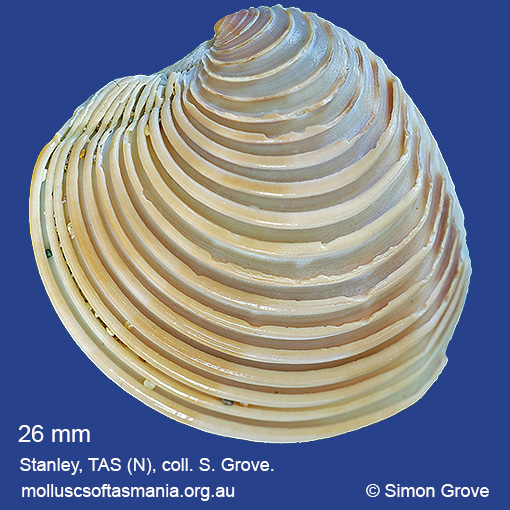 M-Z Localities for Placamen placidum