Chitonidae – Chitoninae: Sypharochiton pelliserpentis (Quoy & Gaimard, 1835) ('snakeskin chiton')
Synonym(s): pelliserpentis Quoy & Gaimard, 1836 maugeanus Iredale & May, 1916.
Typical shell-length 60 mm. The most prominent and distinctive chiton on Tasmanian shores; sometimes beached intact. Often occurs in aggregations in rock crevices. Lives intertidally attached to rocks, especially on sheltered shores. Native. Occurs in southeastern Australia (NSW, TAS and VIC); also New Zealand. In Tasmanian waters, this is a widespread and common species.
Classification
Class: Polyplacophora
Subclass: Chelodina
Order: Lower Neoloricata
Superfamily: Ischnochitonina
Family: Chitonidae
Genus: Sypharochiton
A-L Localities for Sypharochiton pelliserpentis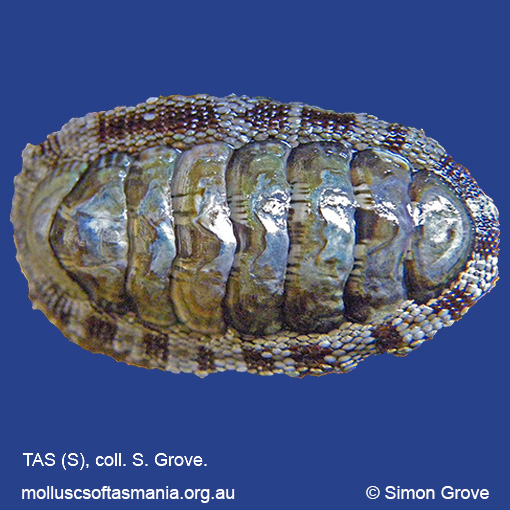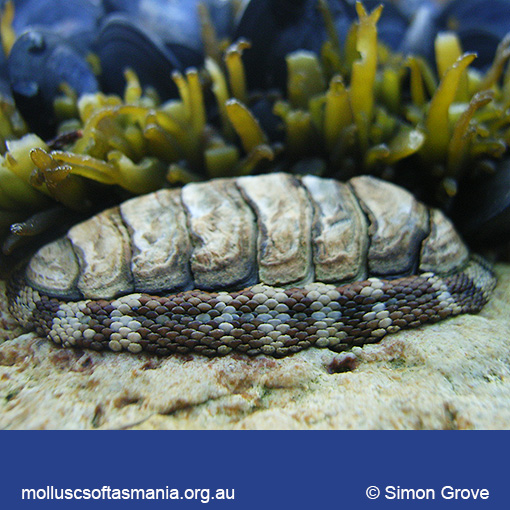 M-Z Localities for Sypharochiton pelliserpentis