Costellariidae: Turriplicifer australe (Swainson, 1820) ('southern mitre')
Synonym(s): australe Swainson, 1820 melaleuca Quoy & Gaimard, 1833 kieneri Sowerby, 1874 vincentiana Verco, 1896.
Typical shell-length 60 mm. Freshly dead shells are nearly all-dark; the pale banding intensifies with increasing wear. Shell lacks obvious axial ribs, despite its family placement. Lives subtidally amongst rocks and seaweed. Native. Endemic to southeastern and southwestern Australia (TAS, VIC, SA and WA). In Tasmanian waters, this species is common as a beached shell in the N, but seldom encountered further S.
Classification
Class: Gastropoda
Subclass: Caenogastropoda – Sorbeoconcha
Order: Hypsogastropoda – Neogastropoda
Superfamily: Muricoidea
Family: Costellariidae
Genus: Turriplicifer
A -L Localities for Turriplicifer australe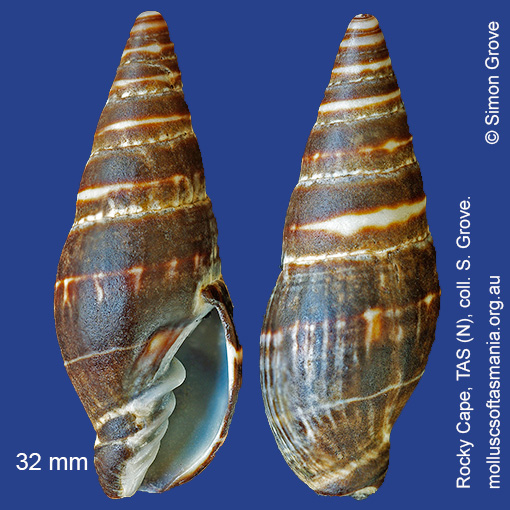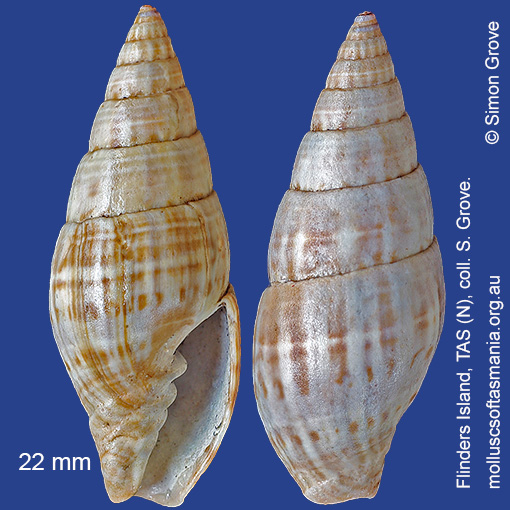 M-Z Localities for Turriplicifer australe