Batillariidae: Zeacumantus plumbeus (G.B. Sowerby II, 1855) ('estuarine mud-creeper')
Synonym(s): plumbeus G.B. Sowerby, 1855 estuarinus Tate, 1893 lawleyanum Crosse, 1863 insculptum Reeve, 1865.
Typical shell-length 10 mm. Taxonomic status uncertain – there may be two species under this name, though only one in Tasmania. Lives intertidally on mud in sheltered environments. Native. Endemic to southeastern and southwestern Australia (TAS, VIC, SA and WA). In Tasmanian waters, this is a widespread and locally abundant species.
Classification
Class: Gastropoda
Subclass: Caenogastropoda – Sorbeoconcha
Order: Cerithiimorpha – Cerithiimorpha
Superfamily: Cerithioidea
Family: Batillariidae
Genus: Zeacumantus
A - L Localities for Zeacumantus plumbeus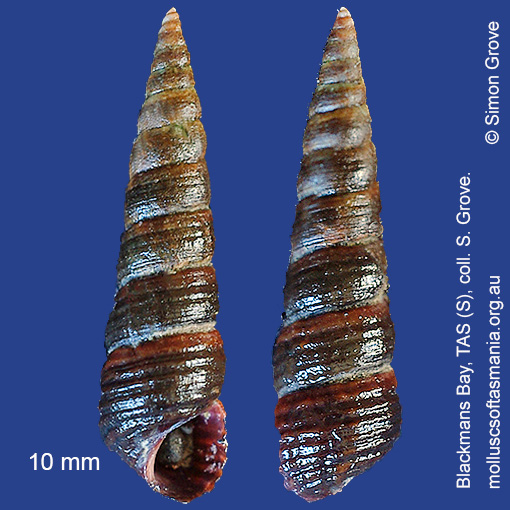 M-Z Localities for Zeacumantus plumbeus